"The Italian Army Rifle Family"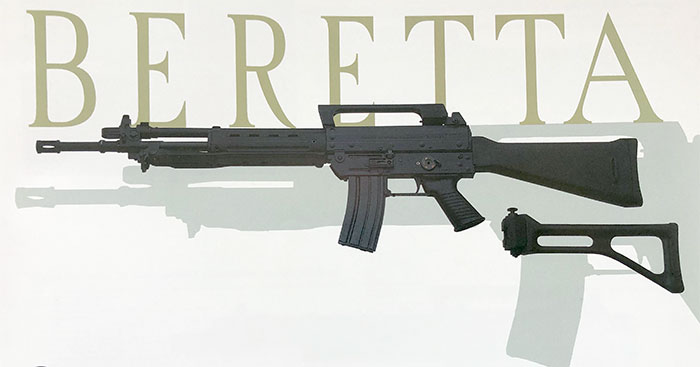 Promoted in the Field.
Adopted by the Italian Armed Forces, the Beretta 70/90 cal. 5.56 mm x 45 NATO rifle has brilliantly passed the most severe tests in many missions abroad. During the acceptance tests, the rifle surpassed the other compe- titors in terms of reliability, sturdiness, performances, NATO designated weapon for ammunition i nterchangeability test, the Beretta 70/90 rifle is produced in three versions: AR 70/90, Rifle for Infantry sc 70/90, Carbine for Special Forces SCP70/90, Short Carbine for Airborne and Armoured Troops. The AR and sc models differ only in the stock. The AR version features a fiberglass reinforced technopolymer stock equipped with rubber recoil pad and reversible sling swivel. The SC model has a ight alloy tubular butt with rubber re coil pad which can be folded to consi derably reduce its overall length. The accurate design of the butt allows the controls locate d on the right side of the carbine to be accessible also when it is folded. The SCP version, ch aracterized for its reduced dime insions, features the same light a alloy folding butt. This model is equipped with a short flash hider. Its bayonet type attachment allows to quickly replace it with a grenade launcher provided with bayonet hook.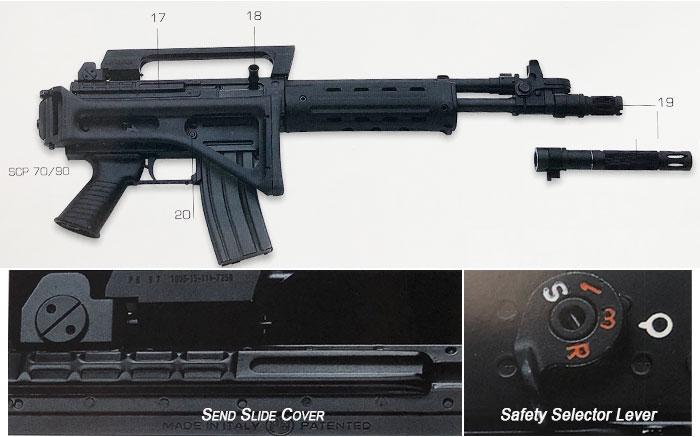 Unique Features of Functionality, Sturdiness and Reliability,
1. Grenade Launcher Valve Lever. Raised to the vertical position, it allows to install the grenade on the grenade launcher and closes the gas port.
2. Adjustable Front Sight. Protected by safety lugs, the front sight is adjustable for elevation.
3, Gas Regulator Valve, It governs the quantity of gas entering the cylinder. In position C (closed valve] it utilizes all gases to drive the piston (adverse environmental conditions),
4. Carrying Handle (on request]. Equipped with quick attachment catch, it carries a three-dot quick aiming system.
5. Receiver of Trapezoidal Section. me high stifness of the trapezoida I receiver avoids any distortion thus ensuring a reduced sliding friction of the bolt carrier and more reliability,
6. Adjustable Rear-sight. me two position aperture back sight (250 and 400 m) is adjustable for windage by mean s of a side screw.
7. Reinforced Technopolymer Stock. the stock features a rubber recoil pad and a reversible sling swivel. Light Alloy Folding Butt Equipped with Rubber Recoil Pad. it can quickly replace the standard polymer stock on the field for special operations,
9. Anti-slip Pistol Grip. made of reinforced technopolymer, it can house an optional "service kit". The hinged bottom plate cannot be lost.
10. Ambidextrous Safety Selector Lever. no allows to select the position of safety, single shot and full automatic fire als so by left-handed users. On request, a controlled 3-round burst device is available,
11. Winter Trigger, The angger guard can be rotated against the pistol grip to give adequate clearance when wearing arctic gloves.12. Rugged Magazine. Manufactured according to STA NAG 4179, the magazine is mad e of sturdy sheet steel to guarantee the maximum reliability.
13. Magazine Release Button. Present on both sides of the firearm, it can be actioned also by left-handed users.
14. Chromium Plated Barrel. Inside chromium plated bi arrel for longer life and resistance to orrosion and wear. Perfectly aligned with the locking sleeve (predetermined an d ground coupling surfaces], the bar rel is secured to it by means of a thr eaded nut and the- refore it can be easily replaced.
15. Light Alloy Detachable Bipod. When folded, it fits ergonomically in the special slots of the fore-end.
16. Grenade Launcher with Flash Hider. It allows to launch grenades with 22 mm tang by means of propulsive or standard cartridges.
17. Sand Slide Cover. It is opened by the bolt I earward travel and is closed by its fo rward movement to keep sand, dust and mud out of the receiver.
18. Ergonomic Cocking Handle. It features the right dimension to be firmly grasped also when wearing arctic gloves.
19. Replaceable Flash Hider. On model SCP 70/9 O, the flash hider can be replaced by a grenade launcher provided with bayonet hook.
20. Accessible Controls. Also when the butt is folded, the controls remain easily accessible.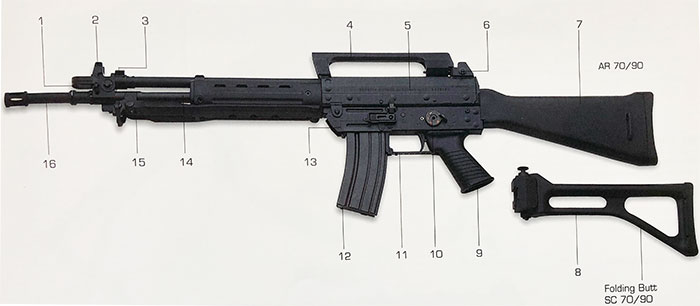 TECHNICAL

FEATURES AND DATA AR 70/90 (Fix Stock)
Caliber
9 5,56 mm x 45 NATO
Operation
Indirect gas operaction
Locking System
Rotating bolt with two lugs
Length
998 mm
Barrel Length
450 mm
Overall width
45mm
Sight Radius
555 mm
Weight (with empty magazine)
4,050 Kg
Magazine Capacity
30