The Beretta Rx4 Storm is the latest member of the Total Solutions for Law Enforcement family. This semiautomatic .223 Rem special purpose rifle emphasizes individual performance with multiple stock ergonomic adjustment, and ambidextrous controls.


The first .223 Rem caliber carbine to join the Beretta Storm family emphasizes ergonomics, individual performance, modularity, customization, and adaptability for different applications and user, while continuing to be the finest in firearms reliability and accuracy.
With homeland security and personal officer protection in mind, the Rx4 Storm comes standard with a reversible cross bolt safety and ambidextrous bolt release. It accepts standard M4, M16, and AR15 magazines, but unlike some other weapon system, the magazine release button is reversible and my be operated from either side.
TECHNICAL DATA
CALIBER
MAGAZINE CAPACITY
OVERALL LENGTH FC
OVERALL HEIGHT FE
WEIGHT UNLOADED


12.5" Barrel (*)

-
.223 Rem
10 or 30 ROUNDS,
30.6" (w muzzle brake)
35.3" (w muzzle brake)
6.9 lbs.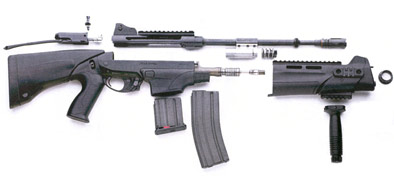 It was under constraction and now is Benelli MR1