The repeating pump rifle (slide action) came on the scene during the apogee of the period we now call "Old West", and gained instant popularity due to the quickness with which it could fire repeated shots. Available in both rifle and carbine configuration, the new Beretta Gold Rush maintains the same operation and design of the original models, giving the exact same feeling when the gun is shouldered and, at the same time, offering the exclusive characteristics that make it safer, more durable, much more reliable in terms of feeding and a lot more accurate.
The original firing mechanism has been revised and improved, thanks to the insertion of an innovative transfer bar that connects the hammer and the firing pin only when the trigger is completely pulled. The blocking system of the cartridges in the magazine tube (patented by Beretta) is a slightly modified version of the original, designed to eliminate the need to manually lower the hammer at each extraction of a loaded cartridge.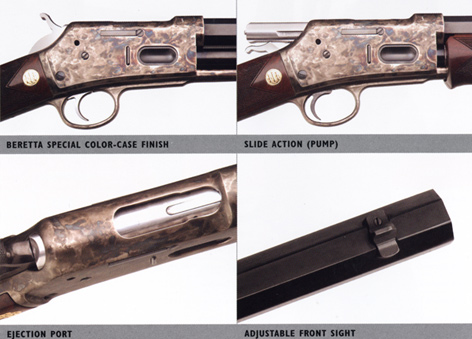 The reliability of the feeding system has been greatly improved, thanks to the cartridge carrier that now feeds the cartridge perfectly in line with the barrel. The magazine tube can hold between 10, 12 and 14 rounds depending on model and caliber (limited to 5 rounds for the Italian market). The sights mirror those on the originals: the rear sight features an elevation adjustable leaf and the front blade sight is adjustable for windage. On request, front sights are also available in different heights.
The Gold Rush sports a Beretta Color Case frame and a blued barrel. Stock and fore end are made from European walnut. Gold plated Beretta medallions are inserted on both sides of the stock on both carbine and rifle. Furthermore, the new Beretta Gold Rush has been manufactured using modem materials thus ensuring years of safe fun both at the shooting range or at the "Cowboy Action Shooting" outdoor events.