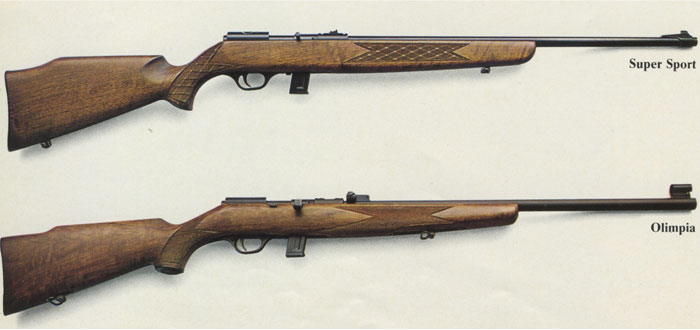 All The semi-automatic Beretta small-bore rifles are well known throughout the world for both their accuracy and their exceptional mechanical simplicity.

In both the Super Sport and Olimpia models the receiver-breech group can be easily stripped down without tools, which favors rapid inspection and/or cleaning at any time.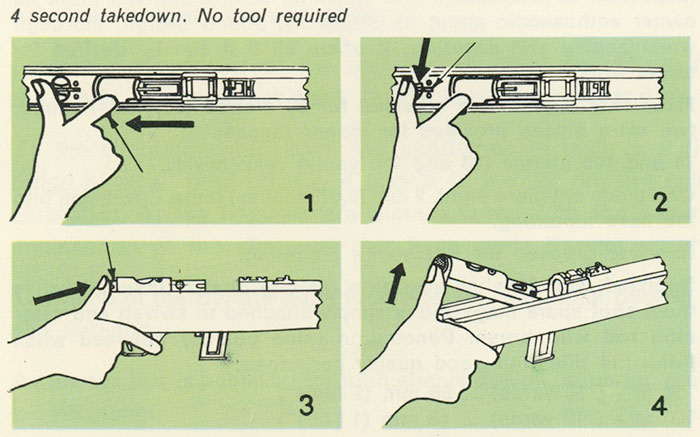 Moreover, the cleaning rod enters through the breech, obviating muzzle wear.
The loading and firing mechanism is easy to strip down and has a relatively small number of component parts which can be replaced quite easily without adjustment.
The rifling consists of 6 right- hand twist grooves with a 400 mm. pitch, which permits a high standard of accuracy.
The trigger pull is adjustable by means of a screw under the trigger guard. The safety on the trigger plate locks the trigger.
Both models can be fitted, upon request, with the Beretta 3: 7x 20 mm. rifle scope.

The Beretta peep sight can be fitted only onto the Olympia model. The checkering on the wooden parts is carried out by hand.

The Olimpia model can be used for bolt-action repetition or for single-shot loading by turning down the bolt handle before firing; this prevents automatic reloading and permits manual operation.
Both the Super Sport and Olimpia models are supplied with two magazines, one for 5 cartridges, and the other for 10, as well as a metal cleaning rod with brush attachment.
The User Manual it's available Free of Charge at this LINK.

On the pictures: Beretta 3: 7x 20 mm. rifle scope and Bfor the Olimpia Beretta special rear sight was available.