At the below link you can download a PDF file that contain a list of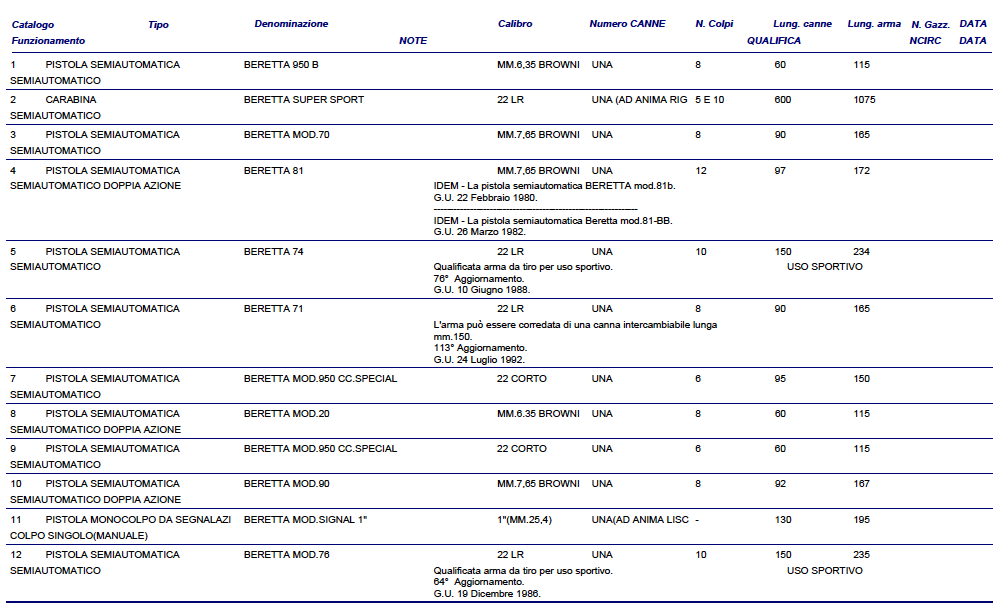 The "Banco Nazionale di Prova" (National Proof House) stamps all Italian
manufactured firearms after proofing. The year stamp noted designates the year
of proof. In the case of new firearms the proof year corresponds to the year of manufacture.
Italian manufactured firearms only. The markings are most commonly found on
the receiver/frame and on the barrel.
From the year 1920 TO 1954 the date is written in "clear" (for example : 1920).
Proof Marks
Punzoni di Fabbricazione
| | | | | | | |
| --- | --- | --- | --- | --- | --- | --- |
| | | FROM 1920 | | XX7 = 1971 | AT = 1988 | BZ = 2005 |
| | | ...... | XI = 1955 | XX8 = 1972 | AU = 1989 | CA = 2006 |
| | | 1939 =1939 | XII = 1956 | XX9 = 1973 | AZ = 1990 | CB = 2007 |
| | | 1940 | XIII = 1957 | XXX = 1974 | BA = 1991 | CC = 2008 |
| | | 1941 | XIV = 1958 | AA = 1975 | BB = 1992 | CD = 2009 |
| | | 1942 | XV = 1959 | AB = 1976 | BC = 1993 | CF = 2010 |
| | | 1943 | XVI = 1960 | AC = 1977 | BD = 1994 | CH = 2011 |
| | | 1944 | XVII = 1961 | AD = 1978 | BF = 1995 | CI = 2012 |
| | | 1945 | XVIII = 1962 | AE = 1979 | BH = 1996 | CL = 2013 |
| | | 1946 | XIX = 1963 | AF = 1980 | BI = 1997 | CM = 2014 |
| | | 1947 | XX = 1964 | AH = 1981 | BL = 1998 | CN = 2015 |
| | | 1948 | XXI = 1965 | AI = 1982 | BM = 1999 | CP = 2016 |
| | | 1949 | XXII = 1966 | AL = 1983 | BN = 2000 | CS = 2017 |
| | | 1950 | XXIII = 1967 | AM = 1984 | BP = 2001 | CT = 2018 |
| | | 1951 | XXIV = 1968 | AN = 1985 | BS = 2002 | CU = 2019 |
| | | 1952 = 1952 | XXV = 1969 | AP = 1986 | BT = 2003 | CZ = 2020 |
| | | 1953 =1953 | XXVI = 1970 | AS = 1987 | BU = 2004 | DA = 2021 |
Meatloaf Recipes and Polpettone di Carne:
Polpettone di Carne is Italian Meatloaf
Meatloaf Without Eggs Recipe Variations
Meaty Recipes from Garden and Gun Magazine