| | |
| --- | --- |
| | The latest addition to the Beretta stable of handguns, this light, modern, perfectly weighted pistol is ideal for beginners. But its sophisticated design and powerful accuracy make it much more than a mere "training gun". |
The U22 Neos DLX adds another level of enjoyment to this line. This latest addition features an adjustable trigger (for pre and over travel) and easily interchangeable front and rear sights. Three sets of colored front sights are provided: White, red and black. Three rear sight blades are outlined in the same colors, allowing the shooter to mix and match the sight picture to his or her preference.

Cosmetics and function are enhanced by the distinctive Beretta blue (or gray for Inox model) soft rubber grip inlays, textured with a very grippable "tire tread" pattern. An elegancy laser engraved slide, with the Neos blue dotted logo, completes the DLX package. Available in the standard C' barrel length or the new TV long barreled version.
| | | | |
| --- | --- | --- | --- |
| Model | Action | Sights/Grips | Caliber |
| U22 Neos 4.5 | Singie | Target/Polymer | 22LR |
| U22 Neos 6.0 | Singie | Target/Polymer | 22LR |
| U22 Neos 4.5 Inox | Single | Target/Polymer | 22LR |
| U22 Neos 6.0 Inox | Single | Target/Polymer | 22LR |
| U22 Neos 6.0 DLX | Single | Target/Polymer with Inlays | 22LR |
| U22 Neos 7.5 DLX | Single | Target/Polymer with Iniays | 22LR |
| U22 Neos 6.0 Inox DLX | Singie | Target/Polymer with Inlays | 22LR |
| U22 Neos 7.5 Inox DLX | Singie | Target/Polymer with Inlays | 22LR |
| | |
| --- | --- |
| | Modular System Barrels, Slides and Grips easily interchange to personalize pistol |
| | |
| --- | --- |
| | |
| Easy Disassembly and Maintenance. No Special Tools Required | |
| | | |
| --- | --- | --- |
| | U22 NEOS 4,5 | U22 NEOS 6 |
| | 22LR | 22LR |
| Overall Length | 8,8" | 10,3" |
| Overall Height | 5,2" | 5,2" |
| Overall Width | 1,5" | 1,5" |
| Barrel Length | 4,5" | 6,0" |
| Sight Radius | 7,4" | 8,9" |
| Weight Unloaded | 31,7 oz | 36,2 oz |
| Mag. Capacity | 10 rds | 10 rds |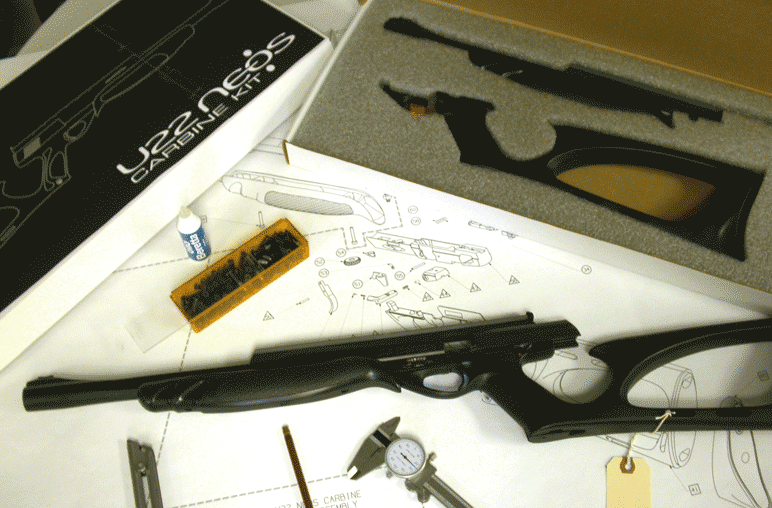 Carbine Kit .22Lr is not longer available, unfortunately Beretta USA discontinued this great kit